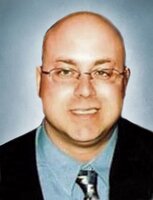 Leonard Pulak
PULAK: Leonard James Pulak passed away peacefully on December 26, 2021 at the Northern Lights Regional Health Centre in Fort McMurray, Alberta due to medical complications. He has found home with his parents, Florence and Arthur and his oldest brother, Daniel.
Born in Brandon on April 26, 1972, Len graduated from Vincent Massey High School in 1990. He pursued a career in Computer Science which took him to several locations in Alberta, ultimately landing in Fort McMurray.
As the youngest of 5 children, Len was only two years old when his mother became terminally ill and twelve years when his father passed away. This experience deeply affected Len and his siblings. From a young age, Len left a lasting impression on those he met with his bold, outgoing personality.
In his last few years Len found solace in the connections he maintained with his siblings. He is survived by his son, Jordan; sister, Marlene (Marlow); brothers: Dave, Greg (Pauline) and Patrick (April) as well as his nephews, Leland, Taylor, Zachary, James, Ethan and Sebastian.
Those we love don't go away
THEY WALK BESIDE US
Every day, unseen, unheard
But always near
STILL LOVED, STILL MISSED
and very dear.
Len will be dearly missed by his family and close friends in Fort McMurray.
A private celebration of life will be held by the family. In lieu of donations or flowers, we ask that you spread love and joy in Len's memory through a random act of kindness.