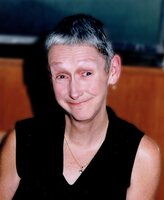 Ruth Smith
Ruth Darlene Smith
August 9, 1951- February 7, 2022
It is with mixed emotions – sadness, relief and gratitude – that Ruth's family announces her peaceful passing at Fairview PCH in Brandon, MB. Ruth is survived by her mother, Ethel Goodall of Winnipeg; sister, Robbie Brown (Charlie) of Winnipeg; brother, Rick Smith (Carol Clifford-Smith) of Bolton, ON and sister, Rae Smith (Brent White) of Brandon, MB. She was predeceased by her father Danny Smith in 1961 and step-father Alf Goodall in 2015.
Ruth was born and raised in Winnipeg but relocated to Brandon in the fall of 2019, where she resided at Victoria Landing until October 2020. After a lengthy hospitalization she was moved to Fairview in the spring of 2021. She fully enjoyed the friendships she had made at Victoria Landing and the kind care and support from the staff, and was disappointed that she was physically unable to return. She did, however, find the same warmth and care from the staff at Fairview PCH. Despite the challenges of relocating to a personal care home during COVID-19, Ruth managed to enjoy some recreational activities and a few outings to her sister Rae's home, where she enjoyed drinking Caesars by the pool, and delighted in the noise and activities of niece Kaitlyn's children, and the quieter connections with her older great-nieces and nephew. Not having any children of her own, Ruth was always interested in the lives of her many nieces and nephews; Dave Brown (Dr. Nicole Rosen), Joelle Brown, Bobby Brown, Kevin Brown (Danni), Karen MacArthur, Erin Brennan, Kaitlyn White (Bas Nundu), Meghan Partridge (Jake) and their children. She loved to see the new babies, in person and in pictures! Ruth was also afforded more family "children" through her step-sister Jan Foreman (Gord), step-brothers Alf Goodall (Susan), Robert Goodall (Judy), Bruce Goodall (the late Gwen) and Terry Goodall (Sandy).
Ruth faced many challenges in her life due to her physical and cognitive disabilities. But with strong support from her family, inherited strength from her mother, and education through R.B. Russell Vocational School, she had a career as a dietary aide at the Riverview Health Centre spanning 31 years. She maintained the friendships she developed at school, especially with Laura Johnston and Marilyn Rye. She was very proud of her job and continued on with the Volunteer Department there after retirement. Travelling the world with her parents, Ethel and Alf, on annual winter cruises and "beaching it" at Grand Marais were her mainstays during her working life. Ruth was a fixture at Park Alleys Bowling where she and her parents were members of the Thursday evening 5 pin association. Any family gatherings that showcased the musical talents of the Browns were another delight. Bingo at the Legion and Happy Hour and Game Nights at Villa Cabrini (where she lived on her own for 8 years!) became her pastime in retirement. Later, Scrabble games with Rae and Brent became a favourite activity and almost taught Rae more patience – she's working on it! To that end, Ruth surely taught us all the importance of being kind, exercising patience and being grateful for the gifts we are given. She never really asked any more than that.
Run like the wind, swim like a fish and Scrabble like an expert now Ruth.