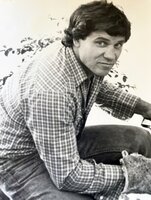 John Davison
John Henry Davison
1947 – 2022
We are greatly saddened to announce the passing of our father John Davison on Thursday, June 2, 2022. John was born on June 15, 1947 in Blyth, Northumberland England and came to Canada at the age of 10.
As a teenager he developed a passion for North American muscle cars and owned much of the sought after models such as: '57 Chevy, '70 Dodge Challenger, '67 Firebird and a '65 Chevy Malibu convertible.
His passion for automobiles would carry into his career where he became an autobody technician, which he did up until his retirement at the age of 71.
As much as he loved his muscle car he had at the time he decided to sell it after meeting his future wife, Janine Vanhoucke so that they could buy a home and start a family. They soon married and began life together, eventually having 5 kids. During this period his interests and hobbies went by the wayside as he focused on his family and being an outstanding husband and father. Always providing for us and was often referred to as the "rock" of the family. Ultimately their marriage did end in divorce, but they eventually reconciled and became very close friends and would often reminisce about the older days.
In his later years, he spent most of his time working on his house and garden, building rustic cabinets which were sold through the Little Shoppe and spending time with friends and family.
John is survived by his 5 children: Pam, Kristine, Joey, Tiffany and Melissa, his cat, Skittles, 7 grandchildren, 4 great grandchildren and his sister, Karen.
He lived his life forever young and will always be in our hearts, forever loved and cherished.
A very casual get together will be held at his house at 1332 26th street on Sunday, June 19, 2022 at 2:00 p.m.