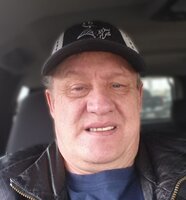 Ronald McLenaghen
Ronald Wilfred McLenaghen
Ron left us June 10th, 2022
Ron was born August 21, 1958 in Brandon to Eileen and Stepdad Karl Weber. He attended David Livingstone School and undertook a variety of employment, but trucking was his favourite. Ron shared his childhood with his sister, Gail Jones and brother, Brian Weber. He had two other sisters, Joan Beck and Donna Wutke and a brother, Harold McLenaghen; many nieces and nephews, lots of family and kept in touch with all of them if he possibly could. Ron was a very kind man with a big heart. He loved to be around people and loved to share his stories and have a coffee. Even though Ron didn't always have a lot of money, he was a generous man and would help anyone who needed it. Ron lived life to the fullest and was forever planning his next adventure with the enthusiasm of a kid. He loved his family and friends and he always wanted to include them in whatever he was doing. If you needed a good friend you could always count on Ron. Ron loved to spend time at the lake and get out on his quad and his boat. It seemed like it was virtually impossible to spend more than five minutes with Ron without him at least mentioning the lake once. He'd be telling you about some upgrade he was planning for his camp site or something he planned to do when he was at the lake next. Sometimes he would pull out his phone and struggle to load up some pictures he had of something he had done at the lake. Things weren't always fancy and expensive, others might even see it as simple, but to Ron they meant a lot and he was always very proud of the things he owned.
How do you say goodbye to a friend?
Ron, we wish you were still here with us. He was too young to be leaving us and we don't understand why he had to go.
We will see you again Ron on the other side, in paradise. We Love You.
Ron spend the latter part of his life with his best friends, Pat, whom he said many times how much he loved her. God Bless You. You Will Be Forever Missed.
A Graveside Service will be held at the Brandon Cemetery on Monday, June 27, 2022 at 2:00 p.m.