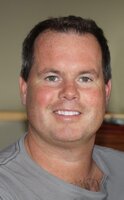 Chris Worley
WORLEY: Chris.
Chris passed away in Brandon on Thursday, September 1, 2022 in his 52nd year. Born in Winnipeg on March 15, 1971, Chris is survived by and profoundly missed by his mother Sandra and father John. He will lovingly be remembered by his sons Oren (Kerrington), Eaton (Rayna) and Keston and their mother Kristen, brother Greg (Karyn) and their children Brennan and Tessa.
While involved in sports throughout his life (hockey, lacrosse and baseball) his passion for golf started at a young age and persisted throughout his life. Professionally, his contributions to the golfing community in southern Manitoba included stints in Winnipeg, Neepawa and at the Minnewasta Golf & Country Club in Morden. One of his proudest professional accomplishments was being involved in the design and development of the back nine at the Minnedosa Golf & Country Club, and leading fundraising for a new clubhouse.
Chris' family will be celebrating his life privately.
If desired, donations in memory of Chris may be made to the Addictions Foundation of Manitoba, 510 Frederick Street, Brandon, MB, R7A 6Z4.