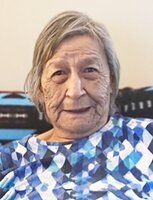 Darlene Bunn
Darlene Theresa Bunn
(nee Pompana)
October 28, 1939 – November 6, 2022
Darlene passed away suddenly in Virden, Manitoba at the age of 83 years.
Darlene is survived by her son, Virgil (Allison); grandchildren: Jessica, Lindsay Jr. (Faith), Syrus, Ethan, Dante; great-grandchildren: Jaci, Jayden, Marius, Mariah, Leonidas, Paris, Sia, Asher, Orion, Kian, Aubrey, Iris; and sisters: Lorraine, Margaret (Allan), Sharon (Lawrence), Gwen (Ron), and Melanie; numerous nieces and nephews, relatives and friends who loved and cherished her.
She was predeceased by her husband, Hector; sons: Daryl, Clyde, Lindsay, Sheldon; grandchildren: Desiree and Logan; great-grandson, Leonardo; parents: Lillian and Leonard Pompana; and sisters, Shirley (Hall) and Phyllis Hall.
A Traditional Service will be held at the Sioux Valley Veterans' Hall on Saturday, November 12, 2022 at 10:00 a.m . The Funeral Service will follow at at 2:00 p.m. officiated by Rev. Don Bernhardt. Eulogy read by niece Krystle Mazawasicuna.
The family would like to thank everyone for their words of sympathy during this difficult time.