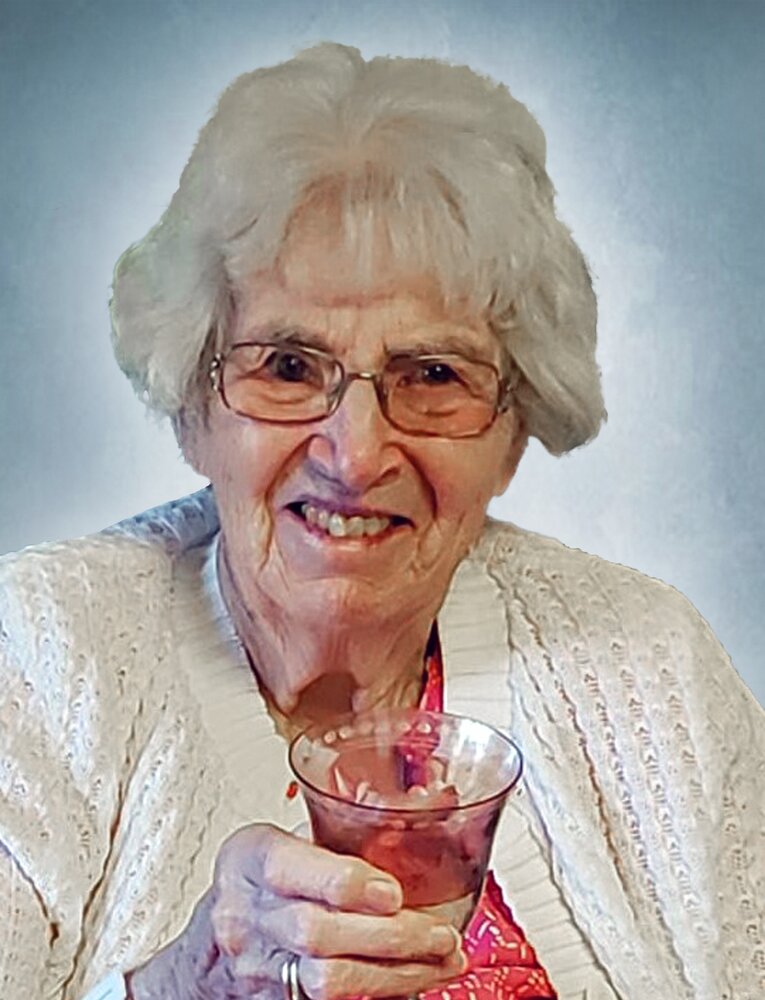 Obituary of Connie McKellar
McKELLAR: We would like to acknowledge the passing of our mom, Connie Mae McKellar (née Rattray). She was born on July 28, 1924 and passed away at Fairview Personal Care Home in Brandon, MB on September 6, 2021 at the age of 97.
Connie was born in Virden, MB. She lived through the dirty 30's on the family farm in Woodnorth, MB and stayed there until her brother returned from World War II. She met her husband Bill after moving to the city (Brandon).
Connie had many interests and was always involved in the community. She loved animals and always had a cat. She passed her time raising her family, golfing, gardening, knitting/crocheting, quilting, curling, and bowling. She loved baseball and her favourite team was the Toronto Blue Jays. When her children were young, many summers were spent as a family at the cabin at Clear Lake or later, visiting a variety of campgrounds with the camper. She was on the women's Auxiliary of the Central United Church, coached baseball, helped to the run canteen at numerous horse shows and drove to many hockey tournaments. She was renowned for her Christmas baking and always started early.
She and her husband Bill had some very close friends and spent many an evening playing cards, golfing, or square dancing with the Circle 8's Square Dancing Club. The house was always alive with card games, planning the next "golfing tour" around southern Manitoba, New Year's brunch or any excuse to get together with friends. Her 90th birthday celebration which took place in the backyard at the family home, was a vibrant event attended by many family members and friends.
Connie had many sayings that bring back fond memories and remind us of the way that she touched the lives of friends and family, many of whom have shared warm, endearing stories of their time together. In her own words she said that "she had a strong Scottish soul and a sharp Scotch tongue, and she wasn't afraid to use it". She was delighted to travel to Scotland to visit her roots in the '80's. Connie was always up for an "adventure" as evidenced by her driving in a Powder Puff Stock car race, just for fun!
Connie was the youngest of six children. She was predeceased by her parents, Margaret and William Rattray; her brothers, Bill and Doug; her sisters Rita, Doris and Anne, along with her husband, Bill. The secret to her long life was a daily walk and Bailey's when needed. Mom had a good long life and it was lived as it was to be.
Connie is survived by her children, Coleen and Dean (Earla); granddaughter, Rachel; grandson, Graham (Kianna) and great grandson, Russel.
A graveside service will be held for family and friends at a date still to be determined. In lieu of flowers, donations may be made to the Heart & Stroke Foundation, 1379 Kenaston Blvd., Winnipeg, MB, R3P 2T5 or to the Kidney Foundation, 1 – 452 Dovercourt Drive, Winnipeg, MB, R3Y 1G4.
Thanks for being here. We hope to see you again.
Love you mom.
Coleen & Dean