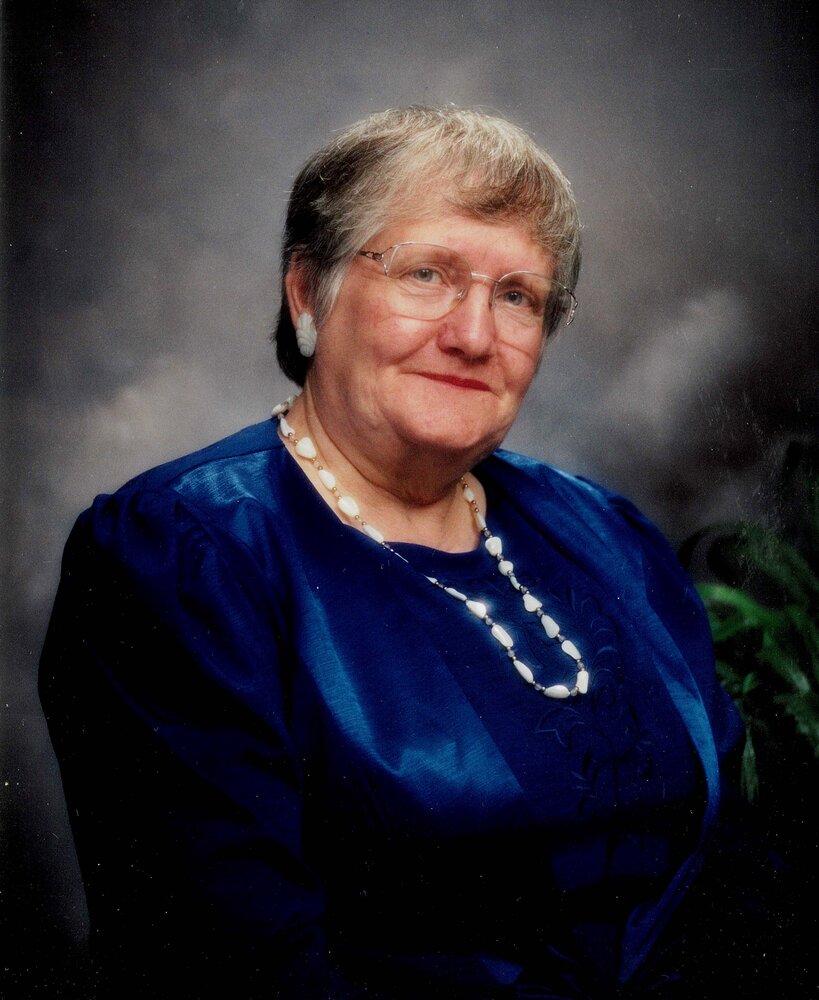 Share Your Memory of
Doreen


Obituary of Doreen Harris
HARRIS: Doreen Harris (ne: Taylor), age 90, passed away peacefully with family by her side at the Brandon Regional Health Centre on January 24, 2023.
Born Evelyn Doreen Taylor on July 31, 1932, to parents Kenneth and Pearl Taylor, on the family farm near Watrous, Saskatchewan. Doreen was the oldest of six siblings, and she spent her time helping out with the farm chores, and helping her mother around the house and with her younger siblings. Doreen attended school in the Kilmory School District near Watrous, and shared many stories of the trips walking to school, as well as some of the more adventurous ones during a cold, Saskatchewan winter in the '30s. Doreen loved to participate in the school Christmas concerts, and sang in the Church choir. We would still hear her singing around the house while growing up. The radio was always on, or records going on the stereo.
Sometime in the late 1940s, Ken and Pearl, along with their family moved to farm at Dubuc, SK, and helped on the farm where Pearl's family lived. Here, as a young adult, Doreen took on jobs helping other farm families caring for their children and helping around their homes. It was with one of these families that Doreen travelled to California with them to continue working for them as they worked down there. She worked in California for almost a year before returning to Saskatchewan by train.
Doreen met Ken Harris in 1963, when she agreed to travel to Brandon, Manitoba to take on caring for the home and making meals on the the Harris farm SE of Brandon. Ken farmed with his father on the family farm after his mother had died. Ken decided she was a keeper and they were married in October that same year. Ken and Doreen spent the first three years travelling to visit family in Ontario and in Saskatchewan when Ken was not busy farming. Doreen was also a member of the Glen Souris Ladies Club until it folded in the 1970s. Besides being a busy Mom to their two daughters, Susan and Shannon, Doreen also provided support to Ken's gravel pit operation by answering phone inquiries, and providing meals to the crusher crews when they were working in the gravel pit. During the years that Ken was Councillor with the RM of Cornwallis, Doreen would attend various functions and conventions in both Winnipeg and Brandon along with other council spouses. When time allowed, Ken and Doreen continued to travel with the girls (when they were young), mainly to Saskatchewan to visit family. They ventured out to BC and to the Maritimes by motorhome with Doreen's sister, Edna and her husband, John. They travelled to Newfoundland as well and had a whirlwind tour of the island. Doreen enjoyed hosting parties for various things such as showers, birthdays, and the like, but the most interesting were the "rainy day" card games. If it was a rainy weekend, the neighbors would get together at someone's home to host a few games, and the kids came along to play with one another as well.
Doreen learned the art of cooking, baking and canning from her mother, Pearl, and she was an expert at all of this. The smell of bread, buns, roasts, pickling and jams/jellies filled the house. She enjoyed gardening and always had a huge vegetable garden. We would go berry picking in the Summer and Doreen would make her awesome Saskatoon pies, and chokecherry or gooseberry jams/jellies. Her flowers surrounded the house every Summer. She had her many flowerbeds filled with peonies, petunias, pansies, marigolds and the like. She enjoyed watching the many different kinds of birds that would grace the feeders. She talked about the various wildlife that would wander through the yard – deer, turkeys, partridge, rabbits, and the odd unexpected ones too! She enjoyed the farm cats who would come up to sit with her on the deck in the evenings. Doreen enjoyed reading: fiction and non-fiction books, magazines, and newspapers. She was always up on current events and loved to get into great discussions about such events. She enjoyed watching curling, and Doreen loved her Saskatchewan Roughriders! The football games were always on when we were growing up. She said that they would have a bit of fun with the other kids when she was a kid in school – the Roughrider stadium was called Taylor Field back then, and Doreen's last name was Taylor, and when kids asked if they owned the football stadium, she would simply say "yes"!
Doreen was predeceased by her husband, Kenneth Harris, parents Kenneth and Pearl Taylor, sister Edna Mae Blackport and brother-in-law, John Blackport, nephew James MacKenzie, brother, Gordon Taylor, sister-in-law Irene (Harris) Zinck, and brother-in-law, Charles Zinck. Doreen is survived by her daughters, Susan Harris and Shannon (Tim) Mayo; grandsons Kyle Harris, Tyler Mayo, and Parker Mayo; sisters Hellen Taylor and Margaret Taylor; brother Newt Taylor; nieces Charlene (Jim) MacKenzie Brown, Lori (Terry) Fogg and families. She is also survived by her "adoptive daughter" Roxanne (John) Seymour, "adoptive granddaughters" Vanessa (Chris) Ferdinand, Ashley (Steve) May, and Victoria (Jason) Seymour, and their families.
A Celebration of Doreen's Life will be held at the Brandon Cemetery on Friday, June 9, 2023 at 2:00 p.m. Urn Bearers are Doreen's three grandsons. Donations in memory of Doreen may be made to a charity of choice
To send flowers to the family or plant a tree in memory of Doreen Harris, please visit Tribute Store
Celebration of Doreen's Life
2:00 pm
Friday, June 9, 2023
Brandon Cemetery
1901 18th Street
Brandon, Manitoba, Canada