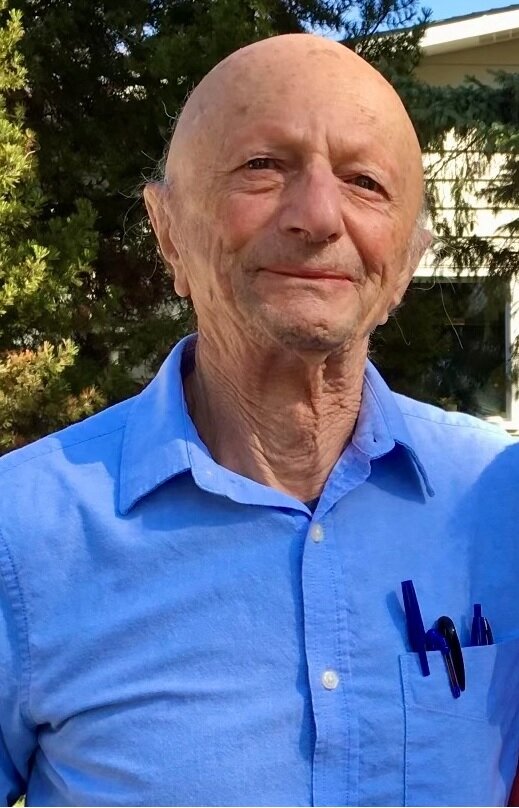 Obituary of Al Rogosin
Well-known Brandon University professor and long-time Brandon resident Alfred (Al) Rogosin passed away peacefully on May 24, 2023, surrounded by his family. He lived a full, long, and happy life, and celebrated his 98th birthday in early May. He leaves behind his wife Marj; three children, Debbie (Serge Lavoie), David (Marie-Claude Rogosin) and Ellen; six grandchildren, Laetitia, Ingrid, Malika, Joel (Kelda Higgins), Rachel (Tyler Klassen) and Mira (Mat Horvat); and two great-grandchildren, Theo and Miles.
Al was born in New York City in 1925 into a family of Jewish immigrants from Russia, and grew up in Newark, New Jersey. His father, Abraham, died when Al was 12, and his younger brother Eric died at 3, so he was raised as a single child by his mother, Rachel. As a youth he loved nature and the outdoors, and later attended Rutgers University where he earned his undergraduate degree in the sciences with a special interest in botany. He then moved to Minneapolis to earn a Master's degree in botany at the University of Minnesota. While there he met Marjorie Pierson at a weekly folk singing group, and the two were married shortly thereafter. Three children followed, and in 1961 they moved to Winnipeg where Al began doctoral studies (researching wild rice) at the University of Manitoba. Two years later he accepted a job offer as professor of botany and biology at Brandon College, making Brandon his young family's home town.
Professor Rogosin was truly well-loved by his many students, and over the course of his life they would often greet him, happy to see a teacher who made an indelible mark on their life. He devoted his life to teaching.
Al was the recipient of an Excellence in Teaching Award in 1990. In May 2018, Brandon University awarded him a Lifetime Achievement Award in recognition of his advocacy for conservation and education as well as building relationships between academics and the community. And as a tribute to his passion for collecting and preserving plant specimens, the herbarium at Brandon University was named the Rogosin Herbarium in his honour.
Al served in the U.S. Navy during the Second World War. He was stationed in Hawaii, and his small stature earned him the job of installing radio equipment in aircraft wings.
Al had a life-long interest in music, playing the violin as a child and the harmonica all his life. He loved attending concerts and listening to music on the radio, and had a phenomenal memory for the symphonic repertoire he preferred. Books and music were highly valued in the Rogosin home.
Al loved nothing more than being in the great outdoors. He enjoyed travelling, camping, and canoeing, and these were highlights of every summer and family vacation. He travelled widely in Canada from the east coast to the west, and as far north as Churchill, MB, including canoeing in northern Manitoba. He loved the Rockies, all of Manitoba, Ontario, Québec, Cape Breton Island, and Newfoundland. As his grown children moved, he travelled to visit, across Canada and as far away as France, Guadeloupe and Corsica.
Over the years, Al led countless field trips all over southwestern Manitoba. His enthusiasm for and knowledge of prairie flora made these field trips legendary with family, students, and members of the Brandon Naturalists Society, of which he was a longtime member. And he probably wasn't the only one to come home with plant specimens in his pockets.
A second life-long passion was photography, which he pursued with increasing interest after the arrival of digital photography. Al was an active member of the Brandon Camera Club for many years. He didn't especially like to be photographed himself, so smiling portraits are rare — the majority of pictures show him with a camera, photographing a landscape or, more often, plants.
Al had a keen interest in what was going on in the world. He was active, especially at the local level, on issues of social justice, conservation and the environment. To have Al on your side was to have a strong and vocal ally.
Toward the end of his life, Al became increasingly affectionate to family, showing amazement and appreciation at seeing everyone together. In May, he celebrated his 98th birthday with family and friends, and attended a piano recital by his son David at Victoria Landing retirement residence, surrounded by family. These happy moments made his final days joyous.
In lieu of flowers (even dried, pressed and properly identified), donations in Al Rogosin's memory may be made to any of the following charities: the Canadian Centre for Policy Alternatives, Doctors Without Borders or the David Suzuki Foundation.
The family would like to thank the staff at Victoria Landing Retirement Residence for the exceptional care and attention they gave Al over the seven months he lived there. Without your help, the quality of life he enjoyed would not have been possible. To the staff at the Brandon Regional Health Centre, our heartfelt gratitude for your work. With health care in crisis all across the country, it was miraculous to see the care and attention our father received at his life's end. Thank you to everyone who helped in ways large and small to make his quality of life the best possible.
To celebrate Al Rogosin's life, a come-and-go gathering will be held on Tuesday, June 6, 2023 from 2:00 p.m. –4:00 p.m. in the George Brockie Fellowship Centre (lower level, Brockie Donovan Funeral Home) 332 8th Street, Brandon, MB.
Come and Go Gathering
2:00 pm - 4:00 pm
Tuesday, June 6, 2023
George Brockie Fellowship Centre
332 8th Street
Brandon, Manitoba, Canada
204-727-0694
Lower Level of Brockie Donovan on the South end of the building

Get Directions