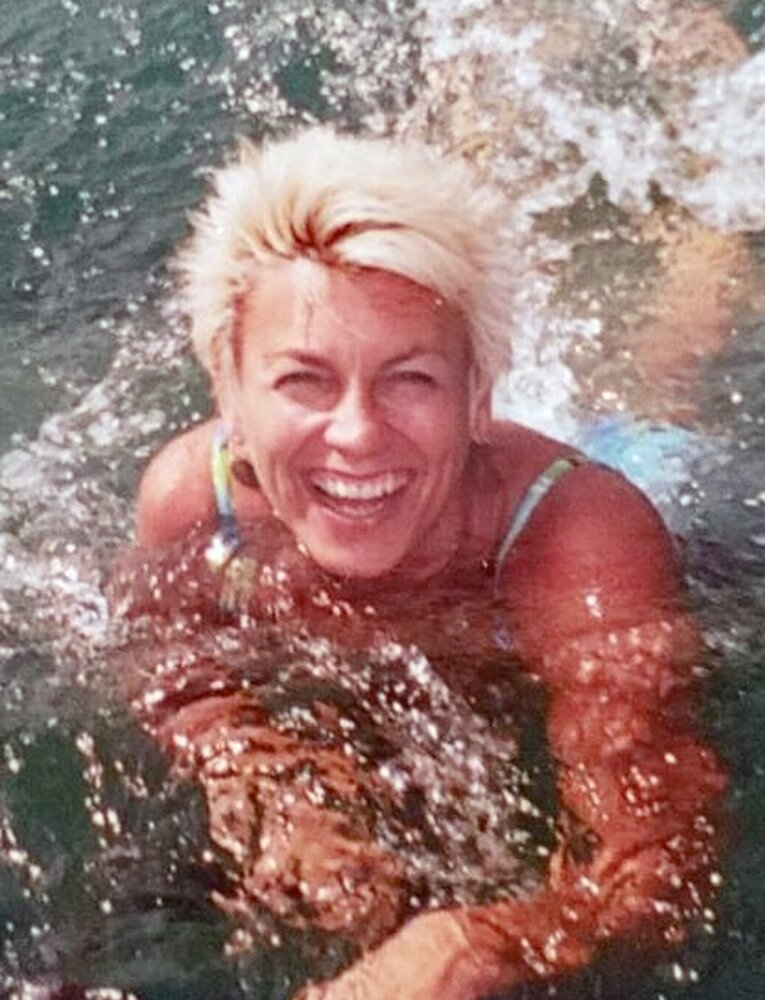 Share Your Memory of
Keay


Obituary of Keay Dobson-Golletz
The family invites you to watch the Celebration of Keay's Life. Please CLICK HERE
ESTHER KEAY DOBSON-GOLLETZ
Our dear and special Keay passed away peacefully on May 31, 2023, after a bravely fought battle with cancer. She was at her Clear Lake home in her beloved forest with her husband, Richard, and other family members present.
Keay was born in Brandon, Manitoba on February 22, 1959, to parents Dreena and Peter Dobson. She was the eldest of three sisters. Keay was an adventurous child who loved to laugh and have fun. Her schooling was in Brandon, where she graduated from Neelin High School as a Governor General's Academic Award winner. Her university training included a Bachelor of Arts, Teacher's Certification Certificate (Brandon University), and a Master's of French Literature Degree (University of Manitoba). She also spent a year in Denmark being an au pair, and taught for a year in Brittany, France.
In Canada, Keay's teaching career started in Minnedosa, then on to Brandon as a French Immersion Teacher at Neelin High School, before finishing out her teaching years as a substitute - often in elementary classes. She was creative, passionate, and had high expectations for her charges, but would go to great lengths to help any one of them in any way. Many lifelong friendships ensued from those years. Keay also trained in the art of Taekwondo earning a 3rd degree black belt; she then volunteered and taught the sport for 16 years. It was important to her to instill the Taekwondo tenets of Courtesy, Integrity, Perseverance, Self Control, and Indomitable Spirit in all her students, to give them the tools in life to become better selves. As well Keay had a huge passion for water sports and had a special place in her heart for Clear Lake. She spent three summers teaching windsurfing, to pay her way through her first three years of university. She taught Richard how to windsurf before they both went on to sailing Hobie Cats for 20 years, and a 26' Hunter sailboat for another 10 years. Their love of sailing took them around the world, sailing with friends in the BVI's, St. Lucia, Thailand, New Zealand, and their much-cherished west coast of Canada. With the wind in her hair and a smile unmatched, she was certainly in her happy place on the water.
Keay and Richard just marked their 36th Anniversary this May. Over the years, they have travelled extensively to over 70 countries, immersing themselves in the local culture. As a result, they have friends all over the world. Keay had a gift of connecting with people with kindness and a smile that always led her to a loving story and a shared experience of true contact. She had an affinity for languages; she would never miss an opportunity to exchange learning with English, French, Spanish or another language, whether it was from the teaching perspective or the learning.
Here at home, the pair have been big community supporters. Keay served for eight years on the board of the Brandon Area Community Foundation, helping fund community projects all over the Westman Area. She was instrumental in starting up and funding the BACF's YIP (Youth in Philanthropy) Program throughout the high schools. This program encourages students to get involved with community groups across the city and then provides grants to help fund those groups after working with them. This embedded and encouraged the concept of lifelong philanthropy and a respect of others less fortunate than themselves. Keay volunteered at all levels on the board of the Riverbank Discovery Centre for a decade; close to her heart was working on the Peter Sawatsky Sculpture Garden Project. Keay was also a board member, then volunteer of the Assiniboine Food Forest (AFFI). Keay was a founding member of the Brandon Folk Music and Art Festival, running the Kid's Area for many years. She was involved in theatre with both Neelin and Mecca Productions; she volunteered at Vallyview School while her nephew Adam attended there. She was also involved with many Brandon activities like the major curling events and Canada Games, in the capacity of translator for French guests coming to our city. In Onanole, she worked tirelessly to secure grants and fundraise donations to rejuvenate the Onanole Rec Centre.
She was truly a community leader with organizational abilities and compassion that has left a lasting legacy in our communities.
Those who knew Keay would recognize a smile that lit up a room. She was kind and generous, believed in both the goodness and ability of others, and had a true love and concern for all living creatures and the environment. Her Clear Lake home at "Wawateow" - where the spirits dance - was her happy place, and she loved to spend time and take care of her forest there. Keay's absence has left a large void for her family and friends, but we have many wonderful memories of her spirit of adventure, laughter, friendship, and love of family to draw upon.
Keay is lovingly remembered by her husband Richard, father-in-law Carl (Vivian), sister-in-law Melody (Barry), niece Jordyn (Darcy); brother-in-law Barry, sisters Anne (Doug) and Susan, nephew Adam (Hasana); sister-in-Law Barb Nieradka, nephew Mitchel (Chantelle), niece Jennifer, niece Nicole, cousin David (Laurie), God Daughter Sochan Vy (Cambodia), God Son Julian Rosas (Edmonton), fur-nephew Linus, and numerous other cousins and relatives - both here in Canada, and in Great Britain.
A Celebration of Life will be held at the Westman Centennial Auditorium, 205 20th Street, Brandon, MB on Friday, July 14, 2023 at 3:30 p.m.
In lieu of flowers, donations may be made to the Brandon Humane Society, AFFI, or the Riverbank Discovery Centre - Peter Sawatsky Sculpture Garden Project.
Celebration of Keay's Life
3:30 pm
Friday, July 14, 2023
Western Manitoba Centennial Auditorium
205 20th St
Brandon, Manitoba, Canada