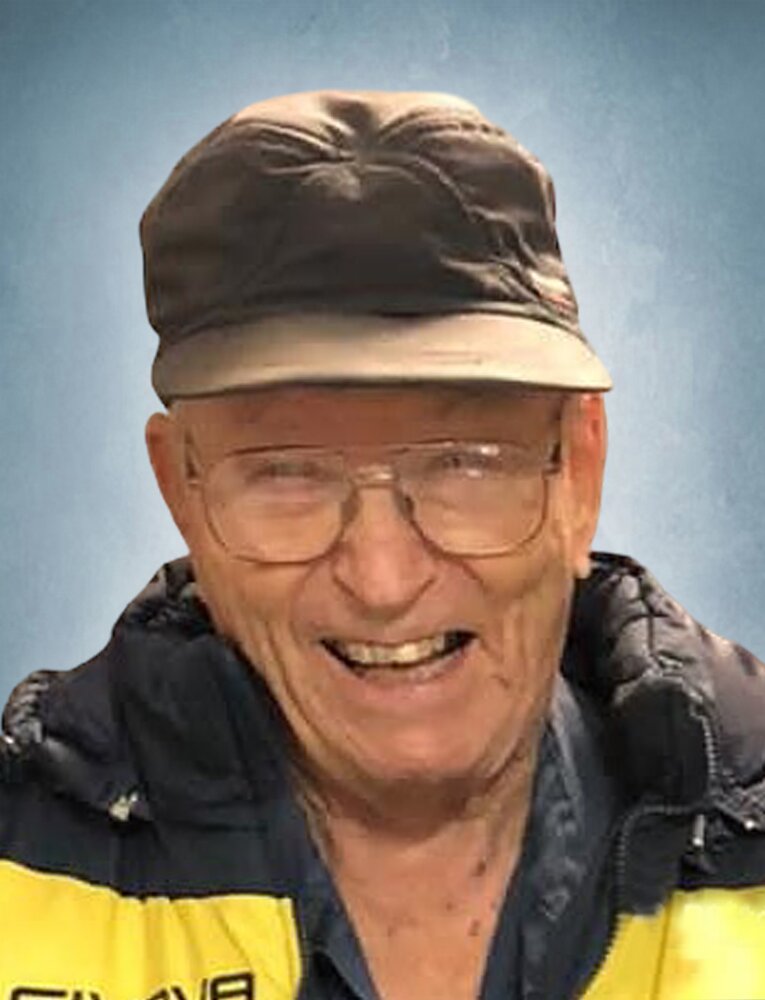 Obituary of Ben Arde
Bennett Albert Arde peacefully passed away at Bren - Del – Win Lodge in Deloraine, MB on Thursday, June 8, 2023.
Ben was born on October 2, 1926 in Corning, SK to Percival and Clara Arde. In 1935, Percy and Clara moved from Corning to Minnedosa, MB and then in 1936 to the farm in the Mountainside area in Manitoba. Ben grew up on his parent's farm with his brother, Russell and sister, Ruth. He attended Mountainside School and developed his love of inventing and building things. He built a snow plane with his brother to be able to get to town in bad weather. When he left school, he moved to Boissevain and worked as a mechanic at Southern Motors Garage.
When in Boissevain, Ben met Phylis Halladay and they were married on September 24, 1949. They bought the Mountainside Store and ran it together until 1962. Ben and Phylis moved to Deloraine, MB in 1962 where Ben worked for Breault Radio and TV Repair. Phylis and Ben planned and built their forever home. They loved to camp and travel during these years and Ben also got his pilot license. He bought into a partnership to own an airplane and eventually bought out the partners to become soul owner. He loved to fly and often flew over his brother's house to say hi. He took many people for rides to show them the aerial view that he enjoyed. Ben was very involved at the Deloraine Airport and received a plaque from the Flying Club for his years of service. He was proud that he owned and flew his plane until he turned 90, which was when he gave up his pilot license.
In 1980, Ben changed jobs to do maintenance at the Deloraine Hospital. He worked there for 18 years and during those years he installed the room monitoring system for the nurses, and implanted many upgrades to make things easier for the doctors and nurses. He retired in 1998 from the hospital and became more involved in the maintenance and running of the airport. In 2008, he received Deloraine Citizen of the Year away for volunteering and community service. This was also recognized by Manitoba Legislative Assembly. Ben loved to share his knowledge with anyone that wanted to learn, and was always inventing ways to make things better.
Ben was predeceased by his wife, Phylis; his parents, Percival and Clara Arde; parents-in-law, Elmer and Florence Halladay; brothers-in-law, Lorne Halladay, Murray Dickson, Pete Dyck, Bud James; sisters-in-law, Doreen Halladay, Margaret Arde; niece, Jerilyn Arde and nephews, Gerry Kuta and Keith Hopkins. He will be greatly missed by his brother, Russell Arde; sister, Ruth James; nieces and nephews, Judy (Bob) Foster, Deana (Kelly) Halladay, Karla Wilbee, Kim (Roland) Huemmer, Elaine (Ron) Groening, Wayne Arde, Robert (Sue) Arde, Brenda (Leonard) Wiebe, Debbie (Ron) Wall, David (Mary) Arde, Penny Arde and their families.
A graveside service will be held at Rosewood Memorial Gardens, Brandon, MB on Monday, June 19, 2023 at 2:00 p.m.
If friends desire, donations may be made to the Deloraine Winchester Airport or to the Deloraine Flying Club, Box 39, Deloraine, MB, R0M 0M0.
To send flowers to the family or plant a tree in memory of Ben Arde, please visit Tribute Store
Graveside Service
2:00 pm
Monday, June 19, 2023
Rosewood Memorial Gardens
Brandon
Brandon, Manitoba, Canada