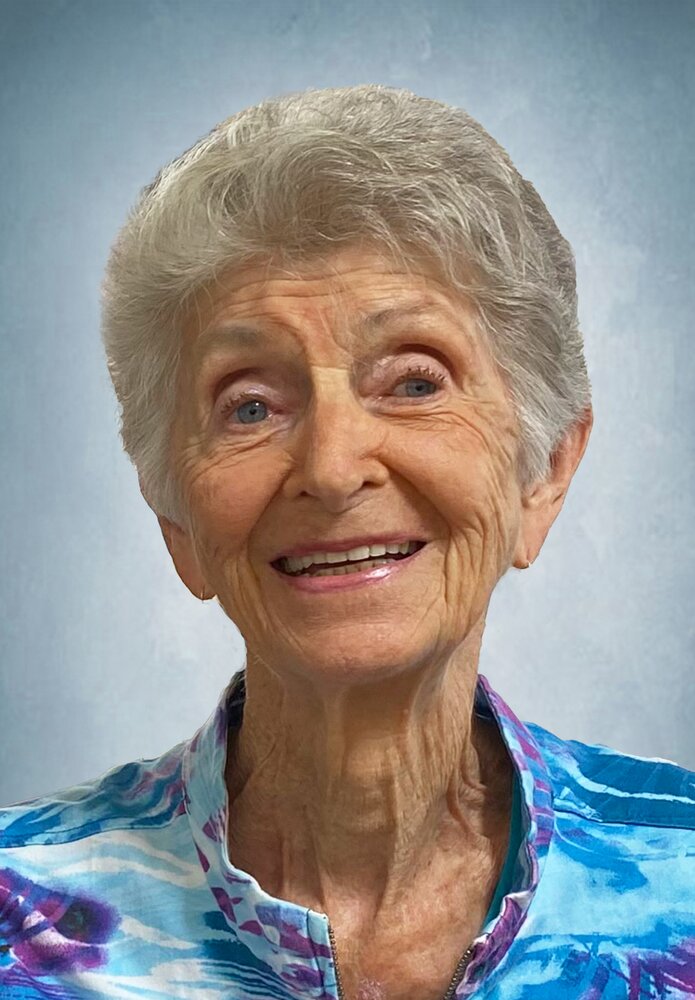 Share Your Memory of
Shirley


Obituary of Shirley Anne Macdonald
To watch the livestream of the Celebration of Shirley's Life, please CLICK HERE
Shirley Anne Macdonald
Shirley Anne Macdonald, 87 years, gracefully slipped away receiving her Angel wings on Friday, September 22, 2023 at 2:00 a.m. from complications with a bowel obstruction while in the care of the Brandon Regional Health Centre.
Shirley was born on June 12, 1936 in Russell, MB, the eldest daughter of Rev. Cliff and Leona Matchett. Shirley has two sisters, Joan and Rae. The trio was known as the Twisted Sisters. Shirley remembers Toby the cat eating gum off of her headboard and that started her love for animals, Midnight the cat on the farm for years, later several dogs, Trixie, Fangs, Whiskey, Joe to name a few.
The Matchett family moved often as Cliff was a United Church Minister in Russell, Roblin, Souris and Minnedosa. During summer vacation, the family traveled across Canada and experienced every province with the last trip fully focusing on Manitoba before Shirley was off to Normal School in Winnipeg, Shirley received her teaching certificate. Neepawa, MB was her first school, with primary children followed by one year in Toronto. On July 23, 1960, she married Malcolm Alexander Macdonald of Basswood, MB, beginning a new life as a farm partner. She enjoyed all aspects of farm life. They were grain farmers as well as hogs, horses, cattle and chickens. Shirley enjoyed operating farm machinery and was gifted a CASE tractor as a first anniversary surprise present.
A highlight of a lifetime was a farm exchange that transpired in 1972 with three weeks in People's Republic of China, being educated in Asian Agriculture. While in China they were able to experience first-hand acupuncture surgery. A person allowed them into the operating room while his appendix was being removed. This form of anesthetic left the person fully alert and pain free, he talked all the way through the procedure. Once the doctor completed the stitches, he got up and walked out. They will never unsee this operation.
On November 14, 1963, a very special gift of twin daughters were born, and motherhood began. The girls did NOT sleep a full night for the first two years, when Malcolm suggested a boy would be welcome on the farm….. and there was a hard NO.
Spring was a time Shirley cherished with marigolds and fern peonies – plus veggie gardens to feed all of Manitoba. During the summer the entire family enjoyed camping, fishing, water skiing and sun tanning. One August long weekend, as they were heading home with a truck camper – a Saskatchewan family in a hurry went to pass, as Mom was making a left hand turn, off of #16 towards the farm. Dad being the Macdonald-MacGyver hooked up the truck camper to a tractor and made Happy Hour at Sandy Lake.
Snowmobiling was a great pastime in the winter, one night, the twins and 5 men went on an adventure to see the Minnedosa Bombers play hockey which was 9 miles away. After the hockey game there was the worst 3 day blizzard. They made their way home, the girls were looked after having sips of Apricot Brandy and not realizing how serious this was, 2 bachelors ended up staying at the farm for 2 days – it was a stay-cation.
Shirley returned to teaching primary children in Minnedosa, when the girls started school. Upon changing school rooms to open area she felt the changes unhelpful and chose to take a part-time job as a florist in Minnedosa, KB Ceramic & Flowers, remaining in this position until 1994, when M&S sold their farm, and moved to Brandon. Malcolm had thought Minnedosa and Shirley said with our encouragement, you'll be happy with a couch and newspaper which Malcolm responded "You know Shirley you are Right" to which a placque was designed to remind us Mom had been right at least once.
With Shirley and Malcolm's love of travel, they travelled all around the world and across Canada, this was always an enjoyment for them.
In 2009, they moved to Lions Manor and Shirley enjoyed coffee, cards, garage sales, also being a committee member.
Shirley received National Recognition National Medal of Courage from the Canadian Cancer Society. While leaving a Cancer Board Meeting she was "mowed" over by a Mastiff dog not on a leash – the impact was that of a car leaving her with head injuries plus a smashed left leg. She was flown into Winnipeg by S.T.A.R.S. helicopter. After being put back together from these devastating leg and head injuries, she started recovery back in Brandon. Looking back she was never the same, spending 3-4 months in the hospital, learning to walk again was an ominous undertaking.
Shirley is survived by her husband, Malcolm; daughter, Susan (Paul) and bonus grandchildren, Haroula and Taso (Tami), great-grandchildren, Andreaus and Maria Spiropoulos, double-bonus grandchildren, Carl and Christie Fowler; daughter, Sandra and dearest granddaughter, Tamara Amy Duncan; sister, Joan (late Russ) and her daughters, Leslie and Diane; sister, Rae (late Bob) and her daughters, Dawn and Kim as well as many great nieces and nephews.
She was predeceased by her father, Rev. Matchett and mother, Leona Matchett.
Cremation has taken place. A Celebration of Shirley's Life will be held at Trinity United Church, 1515 6th Street, Brandon, MB on Thursday, October 5, 2023 at 2:00 p.m. with Rev. Doug Neufeld officiating.
A private family graveside will take place at a later date.
If relatives and friends so desire, memorial donations may be made to the Canadian Cancer Society, Unit 3-510 Sargent Avenue, Winnipeg, MB, R3B 1V8.
"Walking facing God's sunlight and life's worries
and shadows will always be behind you!"
To send flowers to the family or plant a tree in memory of Shirley Macdonald, please visit Tribute Store
Celebration of Shirley's Life
2:00 pm
Thursday, October 5, 2023
Trinity United Church
1515 6th Street
Brandon, Manitoba, Canada